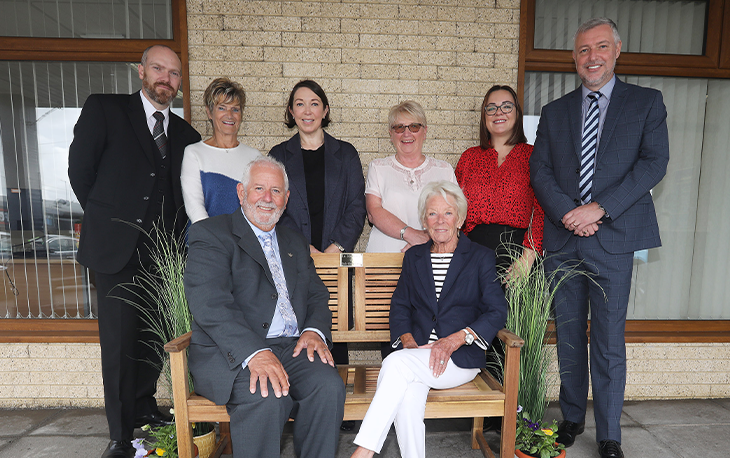 A lasting tribute to a popular businessman has been installed at a funeral home he established more than four decades ago.
A memorial bench is now in place at Mulhollands in Irish Quarter South, Carrickfergus, in memory of founder Robert Mulholland.
Known to most as Bob, he established Mulhollands in 1966 and, sadly, the first funeral he had to arrange was that of his own father, Reeves.
After more than 40 years leading the business, Mr Mulholland sadly died in 2008, aged 79, following a brave battle with a variety of health issues.
His son Peter, 70, joined the firm shortly after it was founded, retiring in 2017. However, he has recently returned in an advisory role.
Peter said: "As a family, we are so pleased that, 14 years after his death, Bob's memory and contribution within the community has been acknowledged in a very simple but very moving way.
"I've attended a funeral since the bench was installed and was happy to witness two young ladies sitting on it, chatting away in the bright sunshine – it was the perfect tribute.
"My father was so totally dedicated to the business his family perhaps didn't see him as much as we would have liked but whenever we did have precious family time it was so warm and so happy.
"There was only ever one way to do things for our customers– the right way – and that was the high standards he demanded, whether it was family or business."
Mulhollands is now part of the Funeral Partners network, and they installed the bench – alongside a photographic display which can be viewed in the reception area – following a suggestion by Funeral Arranger Margo McNamara.
"Bob was well respected by everyone in the community and his name is still frequently brought up by families coming into the office," Margo said.
"Where the bench sits allows everyone to see this well-deserved tribute."